Story originally published Feb. 28 by Garrett County Republican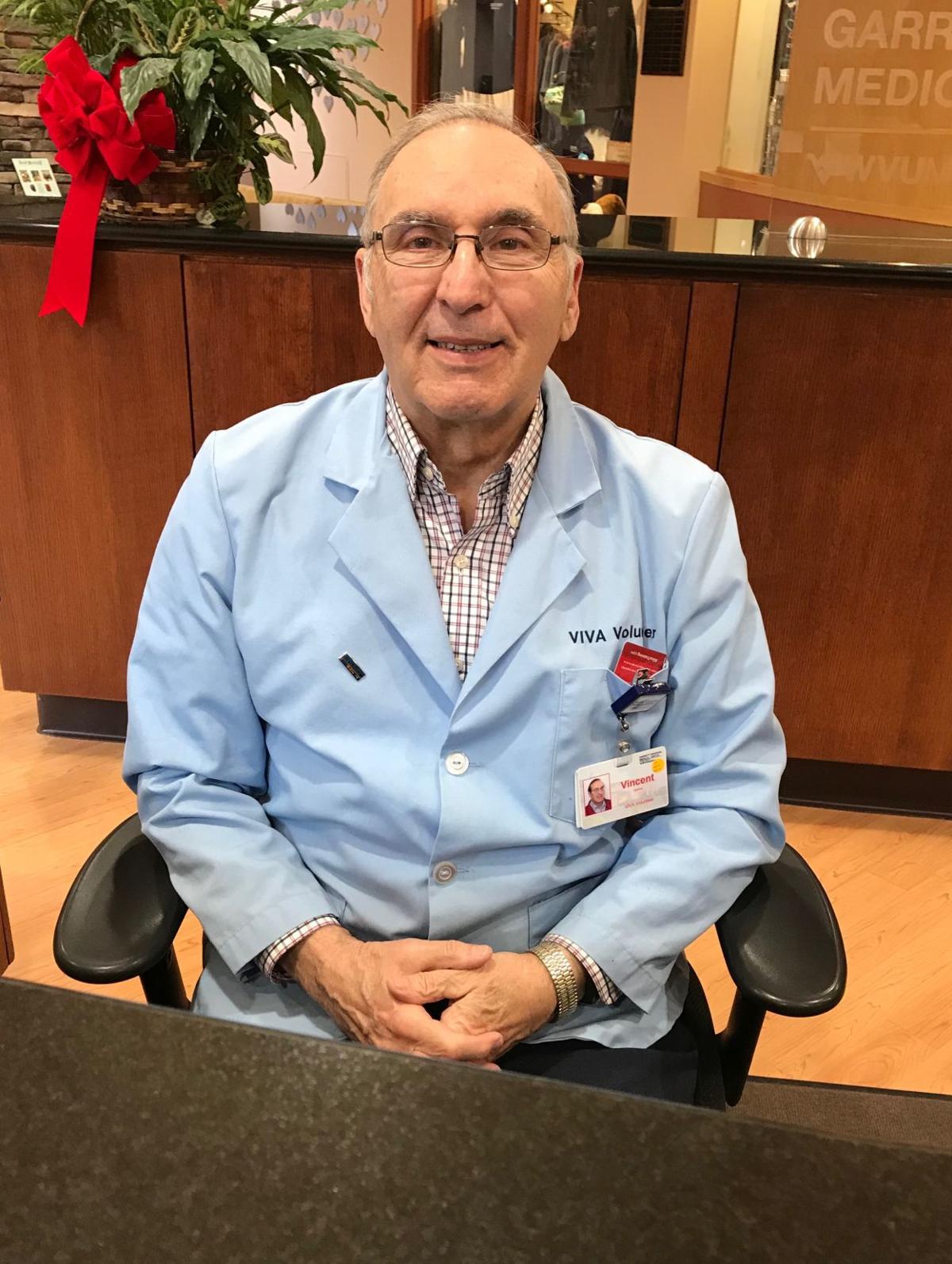 OAKLAND — At Garrett Regional Medical Center in Oakland, more than 130 volunteers donate their time in various areas of need. The volunteers represent diverse backgrounds and age groups, and many of them just happen to be seniors.
Volunteers offer their time through VIVA (Volunteers in Various Areas), the Loar Auxiliary and a chaplaincy program.
Volunteers In Various Areas
VIVA represents the largest volunteer branch at GRMC. Volunteers help patients and visitors by greeting, escorting, comforting, and acting as liaisons between physicians and patient's families during surgery.
They also provide staff support for a variety of projects and daily office duties.
Gary Galloway heads the VIVA program, and he has been involved for four years. He works in the VIVA office along with six other volunteers.
"We organize some records, compile packets of charts needed for various departments in the hospital, put together and bind booklets, make and distribute copies of needed forms, send out patient satisfaction surveys and digitize some records," he said. "We do not see individual medical records. The hospital ensures that patient medical records are confidential."
He noted that the most commonly seen (and the largest number of) volunteers are at the front desk, where they assist people in starting the registration process. They also direct or guide people to wherever they need to go within the hospital.
Some of these volunteers pick up and distribute mail and take care of posting outgoing mail. Volunteers cover the front desk from early in the morning until late afternoon. Other volunteers are helpful in the emergency room and other areas of the hospital.
Some volunteers work multiple days each week, while others work four or five hours. There is flexibility in scheduling to accommodate times when volunteers cannot work on a specific day (or even a specific month.)
"I believe nearly all of the volunteers are senior citizens," Galloway said. "Some of the younger ones are in their 60s — some are about three decades older!"
He noted that there is always a need for more volunteers.
"It is a rewarding experience," he said. "The staff at the hospital are appreciative and friendly to work with. Volunteers socialize with each other and with those that they assist."
Wayne Johnson of Oakland has been volunteering for more than 20 years and is now 87.
"I was on the hospital board, and decided this was a good thing to do," he said. "We do whatever needs done."
Vincent Genco of Mountain Lake Park has been a volunteer for more than 24 years. Originally from Mount Morris, N.Y., he was transferred to the area and retired from a manager position at Bausch & Lomb. He started volunteering after that.
"I had retired, and thought it was a good thing for me to do," he said. "I used to do it twice a week. Now I do it once a week. We help out at the hospital and lead people to where they need to go effectively."
Loar Auxiliary
The Loar Auxiliary supports the hospital gift shop, which offers beverages and snacks, cards, personal care products, seasonal items, gift collection items and more.
Loar Auxiliary proceeds have benefited a variety of care programs and have helped purchase several pieces of major medical equipment for the hospital.
The Loar Auxiliary was named to commemorate the hospital's original benefactor and was founded in 1951 to support the needs of the newly constructed community hospital. The Loar Auxiliary Gift Shop was established in 1976.
Molly Hartung, president of the auxiliary's board of directors, reported that the auxiliary is made up of 20 members who volunteer to run the gift shop, which is open seven days a week, weather permitting. Each member works a four-hour shift, with some working a day or two a week and others filling in when a shift needs filled.
"The perks of volunteering with the auxiliary are that you get your red smock to wear in the shop, you get your auxiliary pin, a flu shot and a PPD test," Hartung said. "You get a 20-percent discount on any gift you purchase, excluding food products. On the day you work, the hospital will give you your lunch."
Hartung is in her second term as president. In her first year, the auxiliary celebrated giving the hospital $1 million over a 10-year period.
"For me, the biggest perk is the new friends and friendships we make, not only with the members but with the staff and the public who come into the shop," she said. "We are a great group of people."
Hartung noted that all of the volunteers are seniors except one new member who just joined.
"Our most important program the auxiliary does is that we give to the hospital whenever they are in need," Hartung said. "In my time with the auxiliary we have helped with the building of a new wing, a Cancer Center, we gave new cribs and rocking chairs for OB, we give new outfits for the newborns, we have bought a new microscope and an eye machine for the eye surgeons in surgery. We also supply clothing to patients who have nothing to go home in. We are now in the process of helping with the buying of a million dollar CT scanner."
Denise Shay is the auxiliary vice president and has managed the gift shop for almost 20 years.
"Our volunteers come to us for many different reasons," she said. "One we all have in common is the desire to help our community. As a gift shop volunteer you are part of a team. There is always back up and support. A volunteer in the gift shop learns new skills. Full training and support is provided until the volunteer is ready be on duty in the shop. Anyone new to the area quickly finds a home as part of our team. The members are friendly and welcoming. The staff at GRMC is appreciative of the volunteers and always express their thanks for the gift shop being open."
Shay noted that visitors often need a gift, kind word or a reassuring smile during a difficult time.
"Our cashiers find they not only assist with sales, gift wrap and complete transactions but they can make a positive difference in someone's life when they volunteer in the gift shop. That's why our gift shop is referred to as the 'heart of the hospital.'"
Margaret Mowbray of McHenry has volunteered at the gift shop for almost five years. She previously worked in Alexandria, Virginia, as an accounts receivable clerk.
"I like to volunteer, and needed something to do," she said. "There are a lot of nice people and it's a nice place to be."
Chaplain of the Day
GRMC offers a "Chaplain of the Day" service to provide patients access to a chaplain seven days a week. Services are non-denominational and are administered by members of the clergy from the surrounding area.
Kathy Skipper heads the chaplaincy program. She and her husband John have volunteered for the last 15 years and have served in various offices on the board. Both are credentialed with the Church of God.
Skipper explained that there are currently approximately six ministers involved with the program. In order for someone to volunteer as a chaplain, the individual must fill out an application available on the hospital's website and must be approved by the board.
One of the requirements is that the person must be credentialed in some form by a church denomination. Each quarter, a schedule is emailed out, giving the chaplains an opportunity to pick a week or weeks that will work for them.
On the week that they choose, they are asked to make visits to the patients who are on the chaplains list (meaning the patient agreed on admission to allow a chaplain to visit them). Visits are made two to three times a week, and the chaplain must also be on call for emergencies. The hospital requests that each person who serves as chaplain take at least one week a year.
"It has been proven that ministering to the spiritual also improves physical healing," Skipper said. "As chaplains, we can offer prayer, spiritual counsel and God's grace at a time when people are most in need. Many times they are not connected with a local church and they are very appreciative that the hospital offers this service."
The Skippers have worked jointly since they started with the program.
"Over the years, we have been called in for various things," Skipper said. "One time, John was called in to see a gentleman who had requested a chaplain, and the patient just really wanted someone to sit a while and listen. Once we were called when a family was visiting Oakland from out of town and their loved one passed away here. Another time, we were able to minister to a young mother who had just given birth to a stillborn child. Sometimes, a family is dealing with the imminent death of their loved one and they just need someone to pray with them for peace."
Rev. Tom Hudson is an Episcopal priest serving part-time at St. Luke's Church in Brownsville. He lives just outside of Oakland and spends a couple of days each week in Washington County.
He said he became interested in the chaplain program three years ago because he is retired and serving a parish part-time, and felt the call to more involvement in ministry.
"The ministry of chaplain is important because many people today only occasionally attend a church, but they still have faith and need to be assured of God's love and presence with them when they or their loved ones are ill," he said. "A chaplain only represents the love of God, not any specific expression of that love. While some people in the hospital are visited by their own pastors, it seems that a majority are not affiliated with a single congregation, so a 'generic' minister is something they greatly desire and appreciate."
He noted that it takes time to visit every patient in the hospital.
"It is a worthwhile effort, but also one that takes a lot of energy — physical, emotional and spiritual," Hudson said. "If I only visited members of my church or people I know, it wouldn't take much time at all. The true commitment is to minister to God's children whom I don't know, have never met before and may never see again. Their need for God and Christ in their time of illness is great, and the small sacrifice of my time is more than worth making for them."
Pastor Ryan Heycock of Emmanuel Lutheran Church in Bittinger became involved with the chaplaincy program last fall since he had prior experience in that area.
"Chaplaincy work is important and vital to the work of any clergy as it reflects the larger mission of the church … provides a non-anxious ministry of presence to those who are receiving care and to whom spiritual health is important and allows clergy to cultivate the skills necessary for pastoral care among their own parishioners and others," he said.
Pastor Barbara Rexroad serves the Garrett Highland Charge United Methodist Church, which involves four churches. She lives in Loch Lynn and has been a chaplain at GRMC for about seven years.
"Not only do folks need physical healing but many times they need spiritual healing, as well," she said. "Sometimes they just need someone to listen to their concerns about their illness or where they find themselves in this time in their life. Someone to share a prayer or read them a scripture or to hold their hand, to listen, and to be with them and their family. Every time I enter the hospital when I am on chaplain duty I ask God to give me the words to say and to let me minister to the folks who need it most that day."
For more information, visit the GRMC website and click on "Volunteer."